Accessibility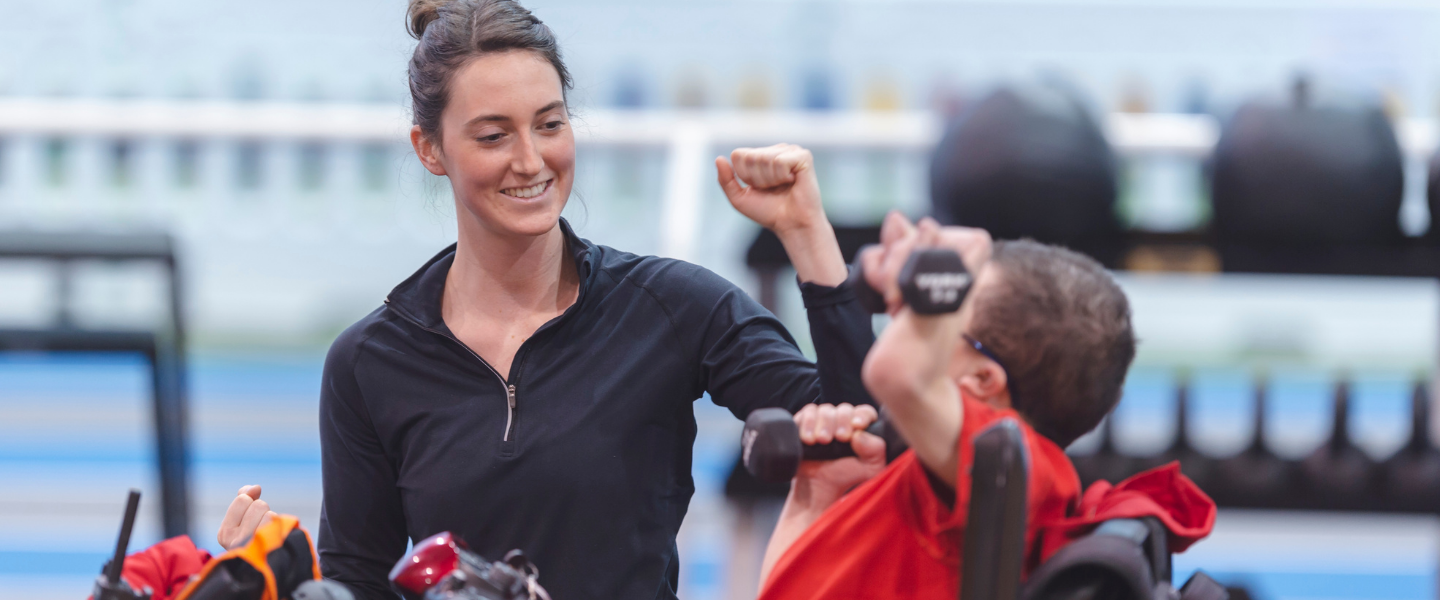 ACCESS AND INCLUSION
Keilor East Leisure Centre offers access to a fully equipped gym featuring a wide variety of cardio equipment, functional training area, a group exercise, wellness and cycle studios with over 100 classes to choose from, indoor 25m pool, 50m outdoor pool, indoor AquaPlay park, warm water pool, spa, sauna and steam facilities.
ACCESS FOR ALL ABILITIES CLASSES
Access for All Abilities classes focuses on improving muscle strength, flexibility and balance. Functional exercises to assist those with physical and / or mental disabilities. Please arrive 10min prior to class to discuss your needs with the instructor. For class details see the current Group Fitness Timetable: Timetable - MOVE (movemv.com.au)
CARERS
Carers holding a carers card are entitled to the following:
1. Whilst caring for a care recipient using the facility
1.1. Free entry
2. Casual entry when utilising the facility on their own without the care recipient (show card)
2.1. Concession rate (28% discount on standard rate)
2.2. This includes entry for gym, selected group fitness classes, swim, spa, steam and sauna facilities. 2.3. Casual entry prices: Entry Fees - Keilor East Leisure Centre
3. Memberships for a carer utilising the facility on their own without the care recipient
3.1. Concession rate (28% discount on standard rate) 3.2. Membership types: Memberships & Passes - Keilor East Leisure Centre

Carers Coffee Club
Join the new weekly social group for carers!

Carers Coffee Club is a great social opportunity for carers to come together which will be held on a fortnightly basis, with alternate locations each week. Where: Ascot Vale Leisure Centre When: Saturdays, fortnightly, commencing 22 October, 2022 Time: 11.30am Where: Keilor East Leisure Centre When: Sundays, fortnightly, commencing 30 October, 2022 Time: 11.30am Meet in the Cafe on site - there will be a sign "Welcome Carers Coffee Club".
We will be offering a 10% discount to all Carers Card holders at café during the Carers Coffee Club event.
Please contact Jaye to learn more:
Jaye Hansford - Community Engagement & Inclusion Coordinator MOVE
jhansford@belgravialeisure.com.au
COMPANION CARDS
Free entry is allowed to companions with a companion card when they are providing support for a care recipient using the facility
BEGIN PROGRAM
If care recipient feel they need additional support to use the gym and equipment then book a free BEGIN program. This program allows our staff to provide the care recipient, in the presence of the carer, tailored guidance and support to ensure they are both equipped with the knowledge to help the care recipient achieve their health and wellbeing goals. More information about the BEGIN program can be found here: BEGIN Program - Keilor East Leisure Centre.

CERGE
Cérge is a communications platform for organisations to provide personalised service to customers with disability. It is used to provide customers with a way of communicating to venues and providers, and allow venues to pre-plan for a persons visit to the facility. The goal is to reduce fear, anxiety and discriminations individuals with a disability endure as customers.

To find out more about the platform, or to read more about how people have been using Cérge in our venues, please visit the links below.

Cérge at Keilor East Leisure Centre: https://cerge.app/inclusivevenue/Keilor-East-Leisure-Centre
Cérge at Ascot Vale Leisure Centre: https://cerge.app/inclusivevenue/Ascot-Vale-Leisure-Centre
FACILITY

Please view the image galley below.

ACCESSWAYS
Our car park offers a range of accessible parking spaces at the entrance to the centre, including step-free access.
A taxi drop-off / pick-up area is located at the front of KELC with step-free access to the curb / footpath.​

CHANGING PLACES
Changing Places change rooms are now located at both Ascot Vale and Keilor East Leisure Centres

Located on the aquatic pool deck. As you enter the aquatic area, turn left. Our Changing Places space is located on the left-hand side just past the accessible change rooms.
You don't need to be a member of the leisure centres to access Changing Places.
Change room features include an adult size change table, hoist, a peninsula toilet (accessed on both sides) and extra space for up to 2 carers or support workers to attend to all personal care.

To find out more visit the Changing Places webpage

CAFÉ
There is a café on the ground floor of KELC with multiple access points (including a counter at a lower-level for
wheelchair users).

RECEPTION FOYER
Our reception / entrance foyer is accessible across the entire ground floor, with large automatic entrance doors, and turnstiles with accessibility access for wheelchairs and carer assistance.

CHANGE ROOMS AND SHOWERS
Foyer Accessible Changeroom - our reception foyer has an accessible changeroom and shower, conveniently located to the side of the entrance foyer for easy access.
Group Exercise Accessible toilet - located on the first floor and accessible via the lift, this toilet also features an infant change table.
Aquatic & Wellness area includes 3x accessible changerooms, including a hoist changeroom ('Changing Places').
Changing Plances accessible changeroom - consists of an easy to open and close electronic sliding door, shower, ceiling hoist, electronic changing table, privacy screens, accessible toilet and hand washing sink with hand rails.
All gender changeroom across the facility feature both an Ambulant Toilet and Ambulant Shower.

COMMUNICATION ACCESS
There are pictorial communication aids throughout the facility.

HEARING LOOP
All of our group fitness rooms (cycle, main studio, coaching zone, Pilates reformer studio and gym floor) have access to the Hearing Loop (Audio induction loop).

The Hearing Loop special type of sound system for use by people with hearing aids. The hearing loop provides a magnetic, wireless signal that is picked up by the hearing aid when it is set to 'T' (Telecoil) setting.
The hearing loop consists of a microphone to pick up the spoken word; an amplifier which processes the signal which is then sent through the final piece; the loop cable, a wire placed around the perimeter of a specific area and act as an antenna that radiates the magnetic signal to the hearing aid.
HEALTH CLUB
Our Health Club entrance is located on the ground floor with an electronic sliding door.


ELEVATOR
Our facility includes an elevator for patrons to access the Group Fitness and Wellness studios located on Level 1, without needing to use the stais.


AQUATIC AREA
Our Aquatic Area cosists of several sections:
Aquatic Wellness Area (Warm Water Pool, Spa, Sauna, Steam room)

Warm water pool has a temperature of 34 degrees
Features ramp access with rails and a step-free entrance

Learn To Swim pool

Heated to 30 degrees
Maximum depth is 0.9m
Features ramp access with rails, wide enough for aquatic wheelchairs and carer-assisting patrons

25m Indoor pool

8-lane lap pool features ramp access with rails.

50m Outdoor pool

features ramp access with rails.

AquaPlay Park

Zero-depth pool.
Lower play features are available to wheelchair users, and patrons wanting to enjoy the water features without going onto the park itself.
WARM WATER POOL
Our Aquatic Wellness Area on pool deck is for patrons under the age of 16 (unless with medical approval).

Our Warm Water pool is one of the largest in the southern hemisphere, designed to be a safe a calm environment for users completing physio, rehabilitation, a safe place for the elderly, persons with disabilities and injured to relax and complete gentle physical exercises.

This area is monitored at all times by trained lifeguards. Lap swimming, jumping and splashing are prohibited in the pool, to create a safe environment for users.
AQUATIC WHEELCHAIRS
At Keilor East Leisure Centre we have aquatic wheelchairs available to the public to use across the facility. These wheelchairs can be used in and around the pools.


INFANT CHANGING TABLES
We have a range of Infant change tables in changerooms across the facility with access to Nappy disposal bins.